Machined torsion
Springs
"Full of Air"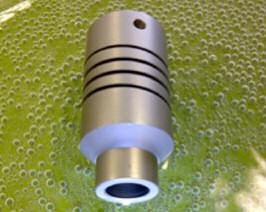 The Challenge was to develop a flexible shaft coupling that could be used in the drive assembly of a "Aerator" used in the oxygenation of water in fish spawning ponds and small lakes. Aeration is especially required in times of hot weather where the oxygen concentration within the water can fall and have a detrimental effect on spawning.
The old procedure involved a fast rotating agitating propeller, placed below the surface of the water, whilst simultaneously compressed air was piped to just behind the rotating propeller to allow a mix and aeration to take place. Although this original process did work, it was not very efficient as the air hose would often move from the optimum position, requiring constant maintenance and monitoring during operation. In the original design, the immersed propeller was driven via shafting and a series of "cardan style" u-joints, which also required an environmentally friendly lubrication.
Abssac was approached by the manufacturer to look at a solution to replace the universal joints due to the fact that no lubrication would be required.
However, it was quickly realised that the drive solution offered by Abssac could also aid in the quest to improve aeration. The Helical beam coupling by design has a hollow centre and this proved to be a big advantage to the application. The final design of stainless steel shaft coupling could not only handle the angular offset and torque required, but cleverly would allow a compressed air tube to be fed through the middle so that oxygen could directly be fed to the middle of the agitating propeller. The end result increased aeration rate by 30%.
Moreover, the single piece U-joint design also supported the propeller shaft at the motor end eliminating the need for a bearing. Additionally its one piece stainless steel construction did not need lubrication or suffer from oxidation.
Machined torsion springs can provide very precise, linear deflection rates because virtually all-residual stresses are eliminated. The stress found in machined torsion springs is dominantly a pure bending stress providing a more reliable and accurate part.
Most wound torsion springs can achieve a rate of around 15%, the machined alternative can easily achieve 10% on rate and can be tuned to +/-2% for the more demanding applications..
We like to think of it as ....Precision Elasticity...
The most common machined torsion spring configuration is the single start spring, which consists of a single continuous coil element, which starts at one end and terminates at the other end, much like its wire wound counterpart. We can supply both unwind and wind up torsion springs and in both cases the spring rates achieved are as linear as the geometry will permit.
However, it is not only the accuracy of rate which is an advantage, since the part is machined, we can incorporate any form of end attachment into the torsion spring. It is important to remember that we can supply an attachment integral to the machined spring that allows the PURE MOMENT to be resolved.
In the wound torsion spring format, tangs are produced by bending the last portion of wire into a set position. These tangs are bent inward or outward upon which a force can be applied.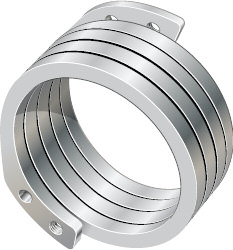 This not only limits the actual attachment designs available but induces high stress into this attachment area. In the machined torsion spring the tang is integral and without stress making it a far more rugged and reliable attachment.
Why not call Chris Cattle with your machined spring questions…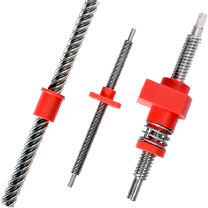 Cold rolled formed lead screws are proving to be a superb economical solution for linear applications requiring repeatable accuracy and reliability. Using a comprehensive range of screw diameters from 3mm through to 24mm, Abssac can match performance and function by offering the capability to supply custom thread forms and combining them with a range of proven anti-backlash or standard nuts designs. The nut designs are then enhanced to incorporate bespoke attachments, in many cases amalgamating parts of the traversing mechanism into the final design.
Whether it is a fine or coarse pitch thread, the end result is a high integrity lead screw and nut product that is ready to be fitted directly into the application.
Phil Jones at Abssac states "We like to pride ourselves at Abssac on our excellent product knowledge for precision miniature motion designs, which are not only excellent quality but also competitively priced".