A FORMIDABLE PRODUCT PACKAGE.
As the sole United Kingdom distributor, we can supply quality crafted bellows, couplings, electroforms, and electrical contacts. For engineers familiar with the traditional electroforming process we are offering a new way of looking at both complexity of shape, wall thickness tolerance, integral strength and capability.
The process begins with a piece of aluminium stock or bar. The internal geometry of the electroform is machined into the aluminium to produce a mandrel. After inspection, nickel, copper, gold, silver or combinations there of are electrodeposited onto the mandrel to a precise wall thickness. Following a post plate inspection the plated mandrel is trimmed to produce the desired end configuration and dimensions. Finally, the aluminium mandrel is dissolved in a caustic solution leaving behind the completed electroform. At this point special finishes or coatings may be applied.
The technology Servometer® offers can and has been used on a whole range of applications in aerospace, medical equipment, electronic chip manufacture, microwave applications, cryogenic cooling and PCB automatic testing activity to name a few.

SUB-ASSEMBLY SERVICES
We also offer a range of efficient precision assembly services that reduce component costs, lead-times, and sustain quality. We specialise in soldering, induction brazing, electron-beam welding and adhesive bonding. Evacuated assembly, hermetic sealing and back-fill operations routinely produce precision temperature and pressure sensitive devices.
Our sub assembly capabilities, combined with necessary leading edge technologies, will get your job done exactly right.
ADVANTAGES:
Get a specialised job done right
Focus on core competencies
Reduce parts count
Simplify assembly, purchasing, and scheduling
Reduce scrap rate on high added-value parts
Improve process control
Reduce total part costs
NEXT STEP:
Complete a design form
See More
Free sample request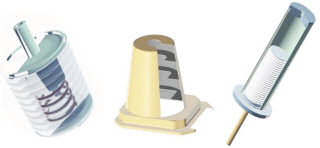 Providing the most flex in the smallest amount of space, we are dedicated to developing and perfecting edge welded bellows design, fabrication and manufacturing technologies with full application design assistance.
Hydraulically formed, or hydroformed, bellows can typically travel about twenty percent of their free length. Edge welded metal bellows have the ability to travel ninety percent; thus, edge welded bellows can accomplish the same movement in smaller sizes and lighter weight assemblies. Bellows accumulators can have pressure internal or external to the bellows assembly. This design factor should be defined early in the design phase since the assembly will ideally receive internal pressure. Understanding the differential pressure between the inside and outside of the assembly also helps engineers to determine the proper size and length of the bellows assembly.
Using state-of-the-art manufacturing capabilities allows our customers to benefit from exact requirements. We excel at optimising the design and attachments so that we have consistently achieved outstanding performance and reliability reviews. For applications that require high quality micro fusion joining, edge welded bellows are more cost effective and functional than electron beam or laser welding.
Working with size range of 12.7mm to 147mm (OD) and working in materials such
ADVANTAGES OF OUR ELECTROFORMS:
Lightweight combined with high toughness.
Limitless geometries are possible, even with varying cross sections
They can be manufactured with varying wall thickness in a single part
Electroforms can be made integral with our bellows, no need for welding or soldering
Diameters as small as 0.5mm
Close internal tolerances
Suitable for temperatures as low as
-423°F / -252°C
Up to 200mm cross section.
Larger parts are possible, for certain geometries.
Typically, our electroforms are nickel, but copper and gold are also available, as a complete part, as a lamina or as a surface finish.
Mirror finishes and low reflectance coatings can be provided as required.
ABSSAC CAN SUPPLY QUALITY CRAFTED EDGE WELDED BELLOWS.
In 2007, Servometer acquired BellowsTech, LLC. BellowsTech is a premier manufacturer of edge welded bellows and assemblies, encompassing a wide array of alloys and dimensional configurations. BellowsTech and Servometer have a synergistic relationship to offer customers solutions and Abssac is proud to be part of that team. The technologies complement each other in size, compatibility, pressure and temperature limitations without sacrificing performance. The cross-over of engineering talent adds value and experience to ensure customers employ the right technology for their applications. If you have an application where the control of volume in a liquid or gas is important, the edge welded bellows product may be able to help.
as AM350, Stainless steel, Titanium, Hasteloy, and Inconel, we will design and manufacture bellows in 0.05mm to 2 ply 0.18mm thickness. In fact we can weld any weldable alloy that is commercially available.
Did you know that edge welded bellows can be used as a liquid or gas accumulator, expansion joint or actuator? See More