Everyone in every industry needs to save time and space while improving performance. Given this, the traditional mechanical clamping bush suffers a number of key disadvantages.
The first of these is that these traditional methods of connection rely on bolts to secure the shaft. This is problematic enough when installing them, but even more so when maintenance or adjustment are required and the bush has to be removed. In these situations, the securing bolts need to be undone painstakingly, half-turn by half-turn.
This process is time-consuming and laborious in the best of conditions, but in demanding environments, the time and difficulty involved become truly critical issues.
The bolts used in such devices also pose significant problems in terms of design. This is because they require that any machine or installation that incorporates them must allow space not only to accommodate them, but also for the operator or technician to access them for maintenance or adjustment. This can add significantly to the machine's footprint and can lead to compromises in other areas that reduce the efficiency or performance of the design.
ETP's hydraulic bushes allow quick, easy and precise screw mounting in a multitude of applications by virtue of using a single screw
for mounting and dismounting of the hub, thus ensuring an extremely quick and easy service interval time due to easy adjustment of the hub. This is achieved by the application of the principle of pressure propagation in liquids.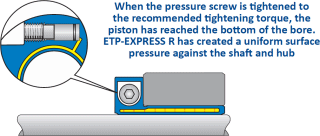 ETP products apply this principle by using a hydraulic pressure medium (usually an inert wax or paste composition) confined in a double-walled sleeve. This is pressurised using a flange containing one or more screws and a piston with seals for the pressure setting. The moderately-high pressure is distributed evenly along and around the hub and shaft, with the double-walled sleeve expanding uniformly and giving an even contact pressure against shaft and hub – thus effecting locking. The self- contained nature of the products means that this procedure can be repeated many times.
Regardless of whether hubs are being removed or repositioned, mounting and dismantling can be achieved in just a few seconds rather than tens of minutes that might normally be taken.
While all ETP products are customisable, they are available in a number of varieties. These include:
ETP-Express, which has only one screw for pressurising and is therefore suitable when there is a need for the fast and accurate repositioning of the hub.
ETP-POWER, a hydraulic connection that consists of a double-walled hardened steel sleeve filled with a specially-developed pressure medium and a flange for higher torques and stresses
ETP-TECHNO, whose outer and inner diameter and the side of the flange towards the hub are accurately machined for excellent concentricity.
ETP-CUSTOM SOLUTIONS - There is also a range of ETP products that can be intelligently controlled or designed to suit individual applications.
Please call us for further details