The couplings are able to transmit huge amounts of torque because the central disc is always defined. Indeed, it is a mechanical guarantee is that the centre disc finds its location and is always in the same place when the device is offset.
Many engineers may not realise that such a large parallel offset can be achieved by a shaft coupling. And, in one sense, this is not surprising, since there aren't any other couplings in the world that handle close shaft coupling and large parallel offset.
Crucially, these couplings are also customisable. The links can be longer, meaning you can start to customise their higher torque capacity and thereby extend the amount of parallel offset it is possible to accommodate.
Typical applications for the SchmidtKupplung range include printing machines, roll forming machines, laminating machines and corrugated paper and papermaking machines. Of these, however, printing makes up the largest area of application. One reason for this is that shaft couplings for the printing industry are required to work with absolute precision to guarantee a register pressure and therefore ensure a high print quality.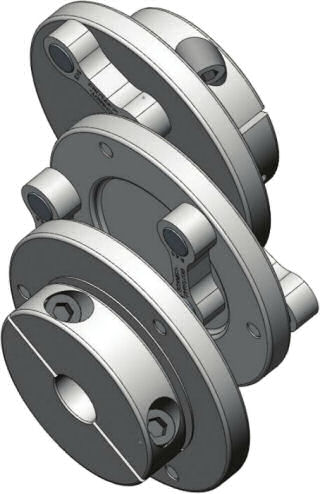 The high precision requirement starts in the actual printing mechanism and continues through the refinement process to quality assurance on the final product. To maintain the precision movement, the Schmidt-Kupplung range of shaft couplings are found in many areas of the printing processes. For example, in the drives for printing mechanisms the couplings can be found driving ink rollers and duct rollers or in the drives for rotary die cutting machines and cutting rollers they can be found where guaranteed precise stamping or cutting processes are performed.
A particular advantage of the Schmidt Kupplung is that during the printing operation, individual rollers may also need to be adjusted, replaced or even removed from the machine. Ease of connection and the unique properties of the Schmidt Kupplung design allow for the axial displacement of roller holders up and away from the press so that maintenance or roller change can be carried out. Crucially, this means that there is no need to stop the printing machines during this period.
The Schmidt -Kupplung is available in three basic series for various performance levels (Standard; Power Plus and Offset Plus). There are three different shaft-hub connections available: a taper lock, standard bore or flange mount.
Abssac Ltd, E1A Enterprise Centre, Enterprise way, Vale park, Evesham, Worcestershire. WR11 1GS